About the UCSC Library Digital Collections
Explore over 100,000 digitized items from UCSC Special Collections & Archives. This site is a living database with new photographs, documents, maps, audio and video added regularly. While only a small fraction of the Library's archival collections are digitized, you can learn more about the unique archives from which these items originate in the Collection Guides linked to each item.
All Collections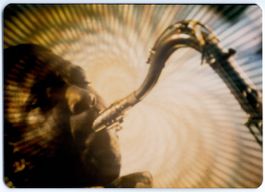 This collection includes photographs of renowned jazz and rock musicians, created by jazz scholar Frank Kofsky in the late 1960s. Included are photographic prints, contact sheets, negatives, and 35mm slides of such recording artists as John Coltrane, Janis Joplin, Jefferson Airplane, Ornette Coleman, and Archie Shepp.
388 items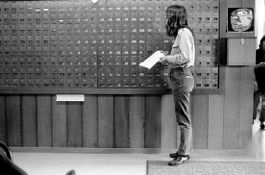 This collection contains images from Frank Zwart's work as yearbook student photographer for Cowell College "Markings, 1969".
266 items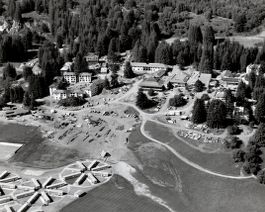 This collection contains photographs documenting the City of Santa Cruz's bid for the new UC campus led by the Santa Cruz Sentinel's Managing Editor, Gordon R. Sinclair.
395 items
Selected audio files from the Grateful Dead Records. Recordings along with additional descriptive information are also available at gdao.org.
323 items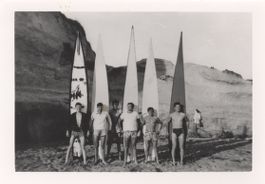 This collection contains photographs of Santa Cruz Surfing Club members and associated individuals from the 1930s-1940s. Most images capture the surfing scene centered around Cowell Beach in Santa Cruz.
1341 items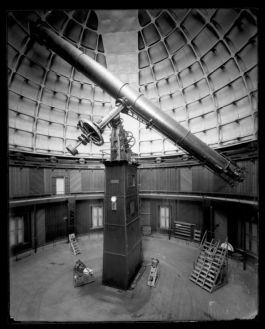 The Lick Observatory Archive documents one of the most historically important observatories in the world, and is a unique resource for the study of the history of modern astronomy. The digital collection contains digitized historical photographs from Series 6 and 7 of the larger collection and includes portraits of astronomers, telescope and lens makers and other prominent scientists, scenes of life at the observatory on Mount Hamilton, instruments, and documentation of expeditions. The physical archive includes records beginning in 1870 describing the founding construction and operation of the observatory, and documenting aspects of the early astronomical ambitions and achievements of its founders. Correspondence, copybooks, drawings, diaries and logs, and the personal papers of resident and visiting astronomers make up a large portion of the Archive.
3259 items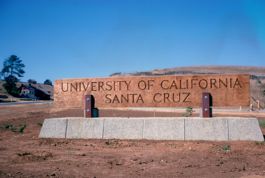 This collection consists of photographs taken by Peggy Long at the University of California, Santa Cruz, from 1964 to 1968. The images of the campus include early construction, aerial views, and events significant to campus history, such as Dean McHenry's inauguration as chancellor in May 1966, and commencement ceremonies, 1967 and 1968.
124 items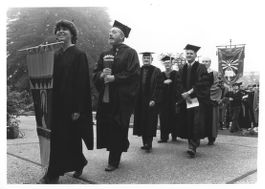 The Porter College dedication photographs include a scrapbook of photographs and ephemera marking the dedication of Porter College (formerly College Five) at the University of California, Santa Cruz in 1981. Also included are photographs of College Five students and faculty dating from the period.
58 items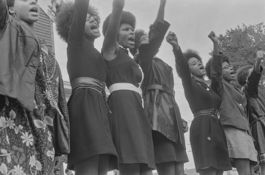 This collection contains a selection of photographs by Ruth-Marion Baruch and Pirkle Jones, whose work visually documents the people and landscape of the San Francisco Bay Area during a time of enormous social, political, and environmental change. Included here is the entirety of Baruch's work, from her earliest 1940s prints, taken during her time as a college student and novice photographer, to her later works in portraiture as a seasoned artist. Social consciousness permeated Baruch's themes centered around women, children, youth, and race, as evidenced by her most famous projects, such as The Black Panthers, Haight-Ashbury, and Walnut Grove, as well as her lesser-known works like Renaissance Faire, Zoo, and Children, They Grow in the City. In addition to Pirkle Jones' contributions to the Black Panther series of photographs, included here is his collaboration with Dorothea Lange, the photographic series, Death of a Valley.
7088 items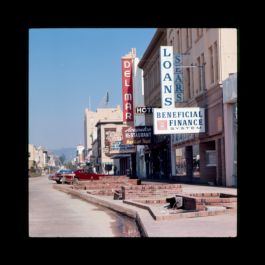 Photographic images of Santa Cruz County from the late 1960s to the 1990s. Notable subjects include Santa Cruz architecture before and after the Loma Prieta Earthquake (1989).
4 items