About the UCSC Library Digital Collections
Explore over 100,000 digitized items from UCSC Special Collections & Archives. This site is a living database with new photographs, documents, maps, audio and video added regularly. While only a small fraction of the Library's archival collections are digitized, you can learn more about the unique archives from which these items originate in the Collection Guides linked to each item.
1 collection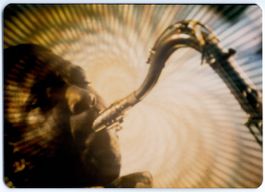 This collection includes photographs of renowned jazz and rock musicians, created by jazz scholar Frank Kofsky in the late 1960s. Included are photographic prints, contact sheets, negatives, and 35mm slides of such recording artists as John Coltrane, Janis Joplin, Jefferson Airplane, Ornette Coleman, and Archie Shepp.
388 items