About the UCSC Library Digital Collections
Explore over 100,000 digitized items from UCSC Special Collections & Archives. This site is a living database with new photographs, documents, maps, audio and video added regularly. While only a small fraction of the Library's archival collections are digitized, you can learn more about the unique archives from which these items originate in the Collection Guides linked to each item.
1 collection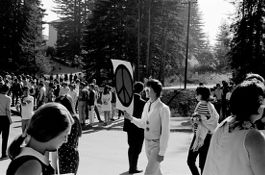 This collection consists of images of campus life taken by Steve Rees at the University of California, Santa Cruz, from the fall of 1966 through the spring of 1967. These black and white, 35mm negatives chronicle the first year of Stevenson College for the Adlai E. Stevenson College Journal, 1967, the yearbook published by the pioneer class of the college. Included are performances, informal portraits, and student activities, as well as visitors and events significant to campus history.
353 items